Board Member
Meet your NABWIS Board Members and Regional Contacts
Ray Cebula
Member at Large | President
rac79@cornell.edu
Raymond Adam Cebula III, J.D., received his law degree from the Franklin Pierce Law Center (now the University of New Hampshire Law School) in 1982. He spent a total of 23 years working with legal services and protection and advocacy programs providing direct representation to disabled individuals having legal issues with the Social Security Administration. He became part of Cornell University's WISC team in 2000 and began providing technical assistance, training and advice to attorneys and legal advocates in the 16 states and territories associated with the WISC. In January of 2005, Ray was brought on staff at ILR's Yang Tan Institute on Employment and Disability where he now serves as the Program Director of ytiONLINE (Cornell's Work Incentive Practitioner credentialing program). While with YTI he has provided training and technical assistance to Youth Transition Demonstration projects across the country, served as Director of Training and technical Assistance for the New York Medicaid Infrastructure Grant and served as a team member for the Technical Assistance Team of the National Training Center of Virginia Commonwealth University providing technical assistance and training to SSA benefits planners in SSA Region 1 until September, 2020. Recent written materials include development of the new YOUTH-C course materials, "Mapping the Path to Work "published by AAIDD, Chapter 23, NOSSCR Social Security Practice Guide, 2015, "Interaction Among Unemployment Insurance, Welfare, Social Security Disability and SSI Benefits", Clearinghouse REVIEW, September-October, 2007. Along with teaching his credentialing program for Work Incentive Practitioners, he has also taught sessions on Social Security and Workers Compensation in ILRLR 4023 - Disability Employment Policy and co-teaches ILRLR4033 - Disability Law at ILR's undergraduate program.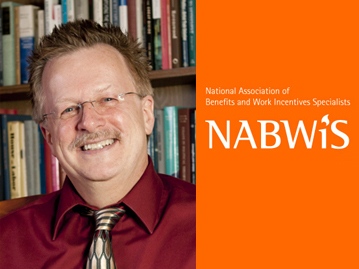 Region I-Boston region-Vacant

James R. Sheldon
Region II - New York | Jsheldon44@verizon.net
James represents the New York region including New York, New Jersey, Puerto Rico, and the Virgin Islands.
Mr. Sheldon was employed by Neighborhood Legal Services in Buffalo, NY for more than 30 years and now works as a disability policy consultant. As a practicing attorney, Mr. Sheldon handled hearings and litigation related to Social Security, SSI, Medicaid, Medicare, special education, vocational rehabilitation, and a range of discrimination issues. He first focused on Social Security work incentives as a Protection and Advocacy attorney during the mid1980s. Between 1998 and 2018, he supervised a regional work incentive counseling project, overseeing multiple federal and state grants, including the federal WIPA grant. Mr. Sheldon has written or co-authored more than 30 policy briefs and a similar number of newsletter articles to support the efforts of work incentive counselors nationally, primarily through Cornell University's Yang-Tan Institute. Between 1996 and 2018, he was the Project Director for the National Assistive Technology (AT) Advocacy Project, a TA and training project serving AT advocates throughout the country. He has written or co-authored many publications on funding of AT through programs like Medicaid, Medicare, special education, vocational rehabilitation, and ABLE accounts and has provided training on these topics and work incentive topics throughout the country. Mr. Sheldon has served on the NABWIS board for more than 12 years.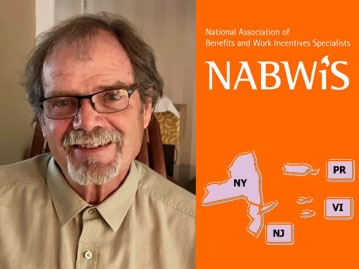 Debora Wagner

Member at Large | dw529@cornell.edu

Debora Wagner spent 25 years working as an attorney, focusing on work incentives planning and VA disability benefits. From 2016 to 2022, she led the statewide network of work incentives training and technical assistance in Ohio. In December 2011, Debora joined the faculty at Cornell's Work Incentives Support Center.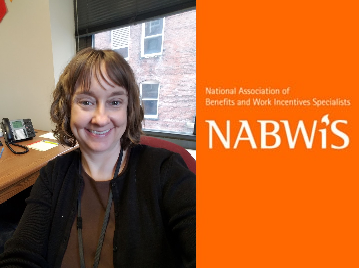 Region III - Philadelphia-Vacant
Pablo Puente
Region IV - Atlanta | Pablo.Puente@servicesource.org
Pablo represents the Atlanta region including Kentucky, Tennesee, North Carolina, South Carolina, Mississippi, Alabama, Georgia, and Florida.
Pablo has been working with people with disabilities for the last 15 years in many capacities, including training, employment, benefits counseling, and financial education. Pablo has been involved in bilingual benefits counseling projects in Florida, North Carolina, and Texas under private, state, and federally funded programs. Currently, he is the Director of Special Projects at ServiceSource where he manages several benefits counseling programs in North Carolina. Pablo also provides bilingual disability consulting work in the areas of benefits counseling and financial education. He holds a CWIC certification from Virginia Commonwealth University, a CWDP certification from the National Association of Workforce Development Professionals, and an MBA from Western Governors University.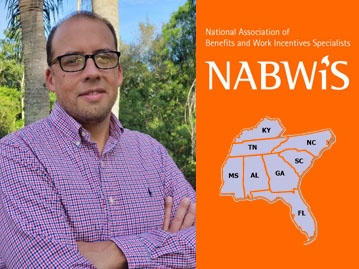 Stephanie Drum
Region V - Chicago | drum@eri-wi.org
Stephanie represents the Chicago region including Minnesota, Wisconsin, Michigan, Illinois, Indiana, and Ohio.
Stephanie Drum has worked for Employment Resources, Inc. (ERI) in Wisconsin since 2006 as a benefits specialist. She currently serves as the agency's benefits specialist manager and is also a lead trainer for the Wisconsin Disability Benefits Network (WDBN). The WDBN provides initial and ongoing training to Wisconsin's benefits specialists. She is a Community Partner Work Incentives Counselor (CPWIC) providing benefits counseling services to individuals working with Vocational Rehabilitation. Stephanie graduated from the University of Wisconsin Madison.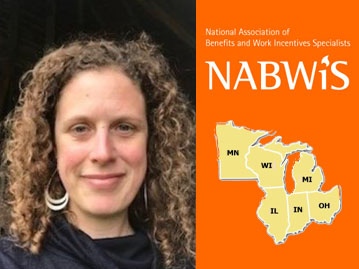 Michael Klinger
Region VI - Dallas | Michael.klinger@dars.virginia.gov
Michael represents the Dallas region including New Mexico, Oklahoma, Arkansas, Texas, and Louisiana.
Michael Klinger has almost 20 years of experience working as a Certified Work Incentives Practitioner. At the beginning of his career, Mr. Klinger worked for an independent living center as a CWIC in Western New York as a contractor under the Work Incentives Planning and Assistance (WIPA) project. After six years in independent living, he relocated to Virginia. He now works for the Virginia Department for Aging and Rehabilitative Services as the statewide Work Incentives Specialist, coordinating the Work Incentives Specialist Advocate (WISA) program for the Commonwealth. Mr. Klinger provides technical assistance and training on federal and state benefits to the statewide WISA network and Vocational Rehabilitation Counselors network around the state. As an individual who also has Cerebral Palsy ,he has professional and personal experience with the disability community. He has a passion for helping people with disabilities transition from benefits to work to become self-supporting and realize their full employment potential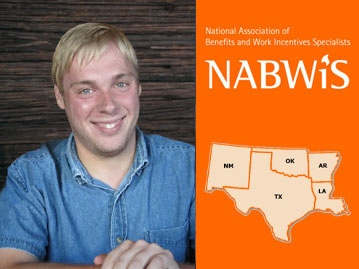 Barbara Tate
Region VII - Kansas | btate@ccsandrises.org
Barbara represents Nebraska, Iowa, Kansas, and Missouri
Barbara Tate is the Chief Executive Officer of RISE Services and Consulting Connection Services in Virginia. Together these agencies focus on individual supported employment and benefits counseling services. Consulting Connection Services is also an Employment Network. Barbara obtained her Work Incentives Practitioner credential (WIP-C) in 2015 through Cornell University. In the summer of are considered as having an open case for benefits counseling.
Barbara is a Human Services-Board Certified Practitioner (HS-BCP), and also certified as an Employment Specialist through the Association of Community Rehabilitation Educators (ACRE). In addition to these certifications, Barbara is a Certified Employment Support Professional (CESP) through Association of People Supporting Employment First (APSE).
Barbara earned a Bachelor of Science degree in Administration of Justice from George Mason University. She continued her academic career and earned a Master of Science in Criminal Justice with an emphasis on Behavior Analysis from St. Joseph's University.
Barbara has worked in various leadership roles and served on numerous boards including for Parent Educational Advocacy Training Center (PEATC), and Cardinal Resources in Virginia. Barbara currently serves on the Disability Services Board for Prince William County. Barbara was nominated to this Board by a PWC Board of Supervisor elected official. In her free time, Barbara enjoys to spend time with her son and travel.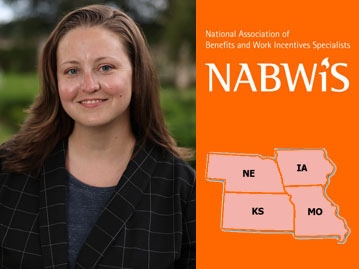 Jolene Wyler
Region VIII - Denver | Vice President | jwyler@utah.gov
Jolene represents the Denver region including Montana, North Dakota, South Dakota, Wyoming, Utah, and Colorado.
Jolene Wyler is the Director for the Utah Work Incentive Planning Services. She has been with the program since its beginning in 2001. She provides services to individuals receiving Social Security Disability benefits so they can make an informed choice about working and their benefits. Jolene graduated from the University of Utah with a Bachelor's degree in Sociology. She is also a graduate of the Certified Public Manager Program. She previously worked as an Outpatient Case Manager for Valley Mental Health and a Director of Marillac House for Catholic Community Services. Jolene has served on the State Board and Advisory Council of the Utah Public Employees Association. She is also currently serving on the Board of NABWIS (National Association of Benefits and Work Incentives Specialists).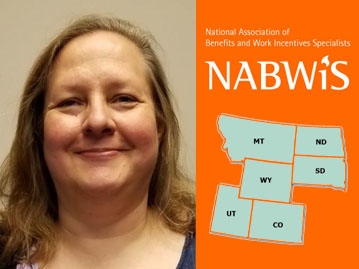 Aleyda Toruno
Region IX - San Francisco | Aleyda.toruno@disabilityrightsca.org
Aleyda represents the San Francisco region including Arizona, California, Nevada, Hawaii, Guam, American Samoa and the Commonwealth of the Northern Mariana Islands
Aleyda has been advocating for the rights of people with disabilities for nearly 20 years. She has represented clients at mediations or hearings involving Social Security work rules, Department of Rehabilitation services, special education, California Regional Center services, Medi-Cal, and In-Home Supportive Services. She is a Certified Community Work Incentives Coordinator and the Work Incentives Planning and Assistance Project Director at Disability Rights California. She joined the NABWIS board in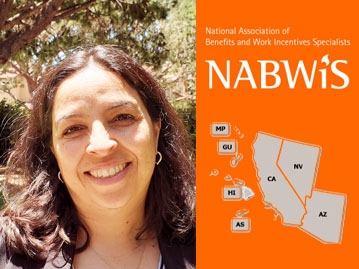 Dee Gavaldon
Region X - Seattle | dee.gavaldon@prideindustries.com

Dee represents the Seattle region including Alaska, Washington, Oregon, and Idaho.
Dee Gavaldon is a life-long resident of Sacramento CA. She first started providing benefits planning services in 1988 while working for Resources for Independent Living and since 1994, with Crossroads Diversified Services. She has been the manager of the WIPA program since 2007 when the contract was first secured by Crossroads and continuing in this position with the integration with PRIDE Industries in 2021. She is looking forward to serving on the NABWIS Board and her interest lies in the area of policy and education.